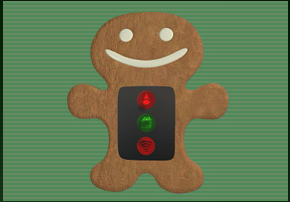 The Gingerbread Man (or GBM) is perhaps the most important device in the current Prep and Landing arsenal. Seemingly a simple Gingerbread Man decoration, the GBM is actually a high-tech, multi-funcional device. At the touch of a secret button, the tummy of the GBM slides open to reveal a small touchscreen lit by several round icons offering a number of functions. At the same time, the eyes and mouth of the GBM glow a soft green to ensure it's user of a full power charge.
The GBM's programming currently allows the following functions:
1. A scanner to determine if any creatures are stirring.
2. Access to the North Pole Naughty and Nice list database, listing a profile and recent behavior of children in the assigned home.
3. A cookie assessment scanner to determine the type and ingredients of cookies left out for Santa Claus. (Santa does not care for nuts).
4. A holographic projector that projects a scale representation of a gift under the Christmas tree to determine if their is enough clearance under the branches. If not, branches can be trimmed with the snowflake buzz-saw.
5. A sync function that allows a GBM to be remotely controlled by a partner's GBM.
6. A flashlight with strobe and multi-color capability.
7. A music player that now also plays videos.