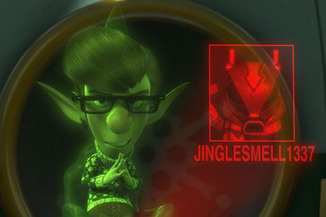 You've all heard the song: Santa Claus, he who is coming to town, is making a list and checking it twice and you may also have heard that he's able to ascertain the difference between people who are naughty and people who are nice.
But what if Santa Claus no longer had a reliable system for differentiating between good children and bad children? That's the timeless conundrum explored in ABC and Disney's "Prep & Landing: Naughty vs. Nice," sequel to 2009's "Prep & Landing," which won four Emmys, including Outstanding Animated Program.
The new special features many of the characters from the original, but also introduces a slew of new characters, including Mr. Thistleton, creator of the vast database that enables Santa to find out who's naughty and also who's nice. Voicing Mr. Thistleton is "Saturday Night Live," "Archer" and '30 Rock" veteran Chris Parnell, who's rapidly becoming an ABC favorite with "Naughty vs. Nice" and a recurring role on the network's freshman comedy "Suburgatory."
Click through for my conversation with Parnell, who talks about holiday classics, Disney magic and reuniting with Ana Gasteyer...
HitFix: First off, tell me about about Mr. Thistleton and finding his voice.
Chris Parnell: Well, Mr. Thistleton is a genius, a computer genius. He actually invented the Winternet and then was very upset they dropped the "W" from the name. So then he got into Christmas and he got to be working for Santa Claus and he's brilliant. He runs this database TreeFarm there at the North Pole, which keeps this massive Naughty vs. Nice list of every child on Earth. He takes himself pretty seriously. He thinks he's pretty great, in his own mind. He is impressive. Voice-wise, they kinda just wanted essentially my voice, but he's just got a certain different attitude that's a little cockier and more egomaniacal than mine is, hopefully.
HitFix: You've obviously done a lot of voiceover work over the years. Complete this sentence for me: Directors go to Chris Parnell when they're looking for an animated character who sounds like...
Chris Parnell: [Chuckles.] I don't know! But hopefully it's a range of things, because this is one very particular kind of guy, but I guess I probably tend to play more needy, insecure characters, but that's not the case with Mr. Thistleton, at least not where his computer work is concerned. He's kind of insecure about his feelings for McGee, played by Sarah Chalke. He definitely seems to have an attraction to her.
HitFix: I was a little surprised by the thing with Mr. Thistleton and McGee. Does that feel like a possible sequel to you?
Chris Parnell: I sure hope so. I'd love to explore that relationship.
HitFix: When it comes to voiceover gigs, actors always joke like, "Oooh, it's a job I can do in my pajamas and I can just knock it out fast." But does the job feel different when you're working on a Pixar production?
Chris Parnell: First of all, just working in the Disney Animation building was pretty amazing, just walking in there. And then when they showed me some of the animation for the first time, it was like "Whoa." And then finally when we got to see it down at D23 in Anaheim, got to see the whole thing put together for the first time, I was just kinda in awe of it. It just looked amazing and it sounded amazing and Michael Giacchino's music... I don't know if there's anything different about it, doing that versus something else, but there's certainly a feeling about doing it that feels pretty damn cool.
HitFix: Are you an animation nerd?
Chris Parnell: Somewhat. I'm not hardcore. I certainly like doing it. I don't know if I'd say I'm a full-on "nerd" about it.
HitFix: What are some of your own favorite holiday specials from childhood or to this day?
Chris Parnell: Well, "Charlie Brown Christmas" is probably my all-time favorite and then "Santa Claus is Comin' to Town" and "Rudolph the Red-Nosed Reindeer," all of those stop-motion animation ones. All of that stuff. I sadly hadn't seen "Prep and Landing" until working on this. I guess not having kids and not being tuned into that as I might be otherwise, I didn't even know about it until the sequel came among here. But I'm excited for my niece. She's like six and I know she's going to love it. And my parents. Everybody. I'm spreading the word to all my friends and family. So it's kinda cool. It's exciting to be a part of it.
HitFix: You mentioned some old classics, but they try to make new holiday specials each year and most of them don't stick. But these "Prep and Landing" specials seem to be a step above. What do you think the Pixar people are "getting"?
Chris Parnell: They're just such good storytellers at the heart of it all, I think. They have these characters in Wayne and Lanny and McGee, who you can't help but like. The actors who do the voices are all amazing, Dave [Foley] and Sarah. They're so creative about making this world, this North Pole world, and there's so much thought and detail that goes into every little item, whether it's the Naughty vs. Nice fruitcake calculator. Everything. I'm reading the script and I'm just laughing to myself because it's so well thought out. It's such a rich, detailed world and it's sweet and it's lovely and there's nothing to not like about it. The storytelling is fantastic and the animation and the detail that goes into that and the fact that they get somebody like Michael Giacchino to do this incredible score, it comes together in a pretty cool way.
HitFix: I interviewed Ana Gasteyer about "Suburgatory" last week and she could not have been more eager to talk about working with you again. What has it been like for you to be pretend married to her again?
Chris Parnell: It is just pure joy. It's just an absolutely delight. Ana, she pointed out that we've been playing versions of these characters since we were in our 20s, back at the Groundlings and then at "Saturday Night Live" and now we're actually old enough to play them for real and get paid for it like that. It's so much fun and it's just so comfortable. We really, genuinely like each other a lot and we're just very comfortable with our rhythms and we the way the other one works. It doesn't take a lot of effort, which is nice. Sometimes it feels like it's too easy, but there's definitely a certain kind of -- dare I say -- magic that happens when we're doing a scene together. It's a blast. I couldn't be happier. And then Cheryl Hines is on there too, who I've also known since The Groundlings. And Jeremy [Sisto] and Jane [Levy] and Allie [Grant] and Alan [Tudyk] and Carly [Chaikin] and Rex [Lee], everybody's just fantastic. It's a joy. I could not happier to be a part of it?
HitFix: You mentioned the ease and comfort. What is that shorthand with Ana like after all of these years?
Chris Parnell: Most of it is unspoken. We get each other's rhythms, so we know how to come in off the other one's line. Also, because we trust each other comedically, we can say to the other one, "Do you think that worked? What do you think? Do you have another idea of how to say this line or how to react to that?" So you've got a collaborator there and you can't do that with most scene partners, just because you don't want to step on anybody's toes. We certainly respect each other, but we trust each other enough to be able to do that kind of thing where we try to both make each other's performances better. We don't offer unsolicited advice necessarily, but we'll often ask for it. Mostly we just have a rhythm.
HitFix: Do you know when we're going to see Fred next on "Suburgatory"?
Chris Parnell: It's probably not until the new year. I think the next episode is the Christmas episode, but I think the next episode I'm in won't be until January.
http://www.hitfix.com/blogs/the-fien-print/posts/hitfix-interview-chris-parnell-talks-prep-landing-naughty-vs-nice-and-suburgatory