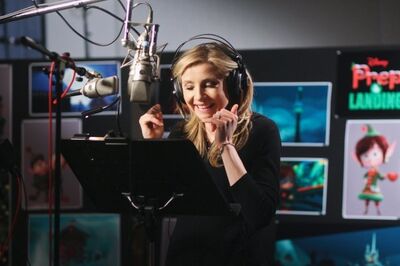 While new seasonal interlopers arrive every year, the Christmas Special market is still dominated by the old classics featuring Charlie Brown, The Grinch, Rudolph and Frosty in the same form they've had for decades.
ABC will attempt to produce a new classic with Tuesday (Dec. 8) night's premiere of "Prep and Landing", the network's first television special produced by Walt Disney Animation Studios. The story has a leg-up on achieving classic status thanks to the presence of Pixar mastermind John Lasseter as executive producer.
"Prep & Landing" reveals the untold story of the elves who make up Santa's advance team, dropping before the jolly fat guy to perform pre-presents reconnaissance. The special's focus is Wayne, a 227-year veteran of the force who becomes disgruntled after failing to get a promotion. With the help of eager rookie Lanny, Wayne's about to be reminded of the holiday spirit.
The special features the talents of Dave Foley, Derek Richardson and Sarah Chalke, voicing Magee, the ultra-efficient North Pole Christmas Eve Command Center Coordinator.
Before the Dec. 8 premiere of "Prep & Landing," Chalke caught up with HitFix to share her favorite holiday special memories and discuss her reduced role on the eighth season of her medical comedy "Scrubs."
[NOTE: This interview was conducted when "Prep & Landing" was scheduled to air on Dec. 1, just before a two-episode block of "Scrubs." The special was postponed for President Obama's television address.]
Click through...
HitFix: Y'all are among the first Christmas specials out of the gate this year.
Sarah Chalke: I think it is!
HitFix: Do you think there are any hard and fast rules for how early Christmas specials can be unleashed on viewers?
SC: Totally. We just saw the special for the first time and it actually got me really excited for Christmas. I know the focus now is on Thanksgiving, but I'm Canadian, so we did Thanksgiving like a month ago. So I'm ready to go. I'm ready to bring out the lights and everything. I think you start early.
HitFix: So Christmas specials... How much were they are part of your own childhood?
SC: They absolutely were. That's why I was so excited to get to do this. First of all, the animation's so ridiculously fun and such a different way of working, but when I think back on Christmas and growing up, I think about my sisters and I all on the couch eating pumpkin pie and watching "The Grinch" or "Charlie Brown Christmas," so it was really cool to be a part of one.
HitFix: Do you have a particular favorite?
SC: I like "The Grinch." I loved the animation in it. The drawings were unreal. And I had a little stuffed Grinch that I loved. We grew up with the story of it, too. So that's my favorite.
HitFix: We're still watching "The Grinch" and we're still watching the Charlie Brown thing. Why do you think it's so hard to make a new classic, to make something that's going to endure?
SC: I think finding something that kids are really going to attach to is hard. What's fun about "Prep & Landing" is that it's sort of like this untold story of these elves who go into the homes of all the kids before Santa comes, the whole idea that there's this other step that happens. My nieces and nephews who are six, four and two were out visiting and they came to the premiere with me and the whole next day they were like "Remember the part where this happened? And then that happened and that happened!" They had a great time with it. The magic of Christmas is what kids can't believe and what will reel them in and having this whole other story, that these elves are coming in and making sure that everything is perfectly ready for Santa, that there's no creature stirring, that there are no dogs around, that there are no nuts in his cookies because he's allergic, that the milk is the perfect temperature. And they have all of these fun devices that they use, like their GBM, their Ginger Bread Monitor, which shoots out a hologram of the gift that Santa's going to give and then they trim the tree to make sure that it fits right under there. And then the flip side of that is that John Lasseter always puts in so many fun jokes and parts for the whole family, for adults as well, so that people of every age can enjoy his stuff. I think that will make this fun for the whole family to sit down and enjoy together.
HitFix: Like you say, there are all of these little jokes that go rushing by, but what do you think the bigger take-away message is for the whole thing?
SC: I think that the bigger takeaway is just the importance of really taking pride in what you do. Wayne gets caught up in "I didn't get the promotion I wanted and therefore I'm gonna phone this job in" and then realizing that really it's about the magic of Christmas and making it special for each and every kid and that kid, Timmy, was about to lose out. So it's about how it's important to keep the magic of Christmas alive for every kid.
HitFix: Have you had experiences like that in your own work? Obviously not about the magic of Christmas, but have you had moments where you lost the magic of what you do for a living and then, in one moment, recovering the magic?
SC: That's the most interesting question I've gotten today!'
HitFix: Excellent. Are there ever days when it becomes a chore and you have to remind yourself, "I act for a living!"?
SC: Absolutely. That's probably a thing that happens in most jobs. You do something every day and don't always appreciate it. But I feel like I've always felt pretty lucky. I think with acting you recognize that there definitely days where there are long hours and and it's tough and you're exhausted and you're going into your 17th hour or whatever, but then you look around and go "This is a pretty lucky way to get to come to work every day." The most part of that depending on what you're working on. I've been pretty lucky in general. With "Scrubs" we got to be there for eight years and it was just such a fun group of people that sometimes you'd just pinch yourself and go like "Wait a minute. This is my job." I think the fun part, too, is that I get to do different stuff and different challenges. Animation is such a different way to work. You come to work not with the rest of the cast. You go on different days and you go one line at a time and you get to try it a bunch of different ways and you look at the storyboards to see what things are going to look like. It was really cool and really different.
HitFix: How long did it take you to knock out the vocal recording?
SC: It was only three days, three days spread out over nine months. The writer-directors worked on it for two years.
HitFix: And what was the process of finding Magee's voice. She doesn't sound all that different from the way you normally sound, just a bit more excitable.
SC: Exactly. It's not a completely different voice. Everything is just a bit moreso and just a little bit pushed. You can have a little more fun with it. That was one of the cool things about it. In live action, you do a take in a scene and you can try something a few different ways each take or whatever, but there are only a finite number of takes you're going to do when you're on set and there are 150 crew members and film and time on the set are very expensive. In animation, you can rattle off one line maybe 20 times in two minutes and they can have all of these different options and choice. The thing with Magee is that she's a perfectionist and she's super high-strung. She talks really fast because she's trying to get everything done and do a million chores at once. She's talking on the phone, while she's chugging her holiday mug latte while she's writing out her paperwork. It was a balance of trying to do everything really really fast, while trying to make everything audible.
HitFix: Then, of course, it's a nice coincidence that after "Prep & Landing," we get "Scrubs." You're in the first two minutes and then you're not in the next two episodes. Tell me what you actually get to do this season.
SC: Well, I'm signed on four. I just finished that last week and then I'm going to go have this kid. It was very generous of Bill Lawrence to write the pregnancy into the show, because otherwise you're just the person holding a newspaper in front of yourself the whole time. So it was fun to get to be pregnant on the show, too. The stuff that Elliot gets to do is a bit of a combination of some medical storylines and then some baby stuff.
HitFix: Are you just astounded at the way the show keeps cheating death every single spring?
SC: Yeah. It's unbelievable. It's so rare for a show to get to go that long and it feels like we keep getting a new chance. We had our huge good-bye at the end of last season. Well, at the end of a few of the seasons, but especially at the end of last year. It's just so lucky.
http://www.hitfix.com/blogs/the-fien-print/posts/hitfix-interview-sarah-chalke-talks-prep-landing-and-scrubs