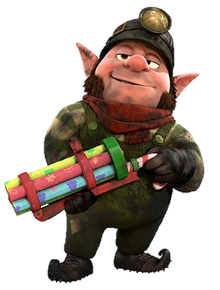 Growing up, Noel was a highly popular and accomplished athlete, and many felt he would follow his older brother Wayne to Kringle Academy and then Prep & Landing. Although Noel always took great pride in his brother's heroics, he felt he could make a real difference in children's lives, and instead chose the Coal Elf Brigade as his vocation.
Noel has become one of the most esteemed members of the Coal Elf Brigade, working hard for the last 209 Christmas Eves delivering coal to children on the Naughty List. With his great brawn and keen insight into the minds of children, Noel is often regarded as the foremost Naughty Kid Expert. In his long career, he has never lost sight of the Coal Elf Brigade motto that "within every lump of coal is a diamond in the rough", and is proud of his job that helps rehabilitate children one lump of coal at a time.
Likes: Noel enjoys kicking back at Christmas Carol's in his free time. He is fond of Carol's famous ½ pound blackened herring special, but prefers it without parsley. Noel is also fond of his Jingle Gel Hair Cream, which keeps his magnificent head of hair "lustrous and luscious".
Dislikes: Noel doesn't like getting up before 10 a.m. He also hates doing laundry more than once every 3 months.
Random Facts: Noel is one of the few elves that command the begrudging respect of Thrasher the Reindeer. Noel sometimes joins Thrasher for Thursday night card games.
Noel holds the record at Christmas Carol's for staying on Bruiser the Mechanical Reindeer the longest: 9 hours, 16 minutes, and 43 seconds.
Favorite Christmas Cookie: Peanut Butter Yule Logs