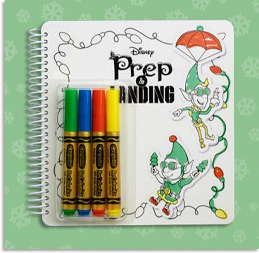 Product Details:
This is a slick heavy cardboard spiral bound book. The inside of the cover contains 5 pre-cut pop-outs of the characters from the TV Special Prep and Landing. With the attached Crayola ® ReColoritz® Markers you can color, wipe clean and recolor again and again. The Markers included are one each of red, blue, green and yellow. Of course you may purchase other ReColoritz® markers to use.
The center "two" pages are actually hinged. When unfolded they show the upper story and roof line of a house, with a full sleigh being pulled by eight silhouetted reindeer across the full moon. With the center page still open and in combination with the back page you have the inside of the house scene. A Christmas tree, stair-way, fire place, chair with table holding milk and cookies are shown on the three pages. Again all of these can be colored again and again, as well as using the pop-outs to create your own story with Prep and Landing's Wayne, Lanny and Magee elves.
Overall measurements of the closed book are 8 ½ X 9 X ½ inches without the spiral binding.